Who is Appfast suitable for?
Our app builder platform is suitable for all your business needs. You can do everything on your owns with Appfast without programming knowledge such as:
Build e-commerce and sales applications to help grow revenue and create more loyal customers.

Create news apps, help deliver content, attract readers, and build a community thanks to a great experience. Besides

Mobile app design in the education field helps to manage students, better students. Increase the interaction between the instructor and the student.

As a celebrity, besides maintain your large community, you can also sell personal products to huge fans through your application.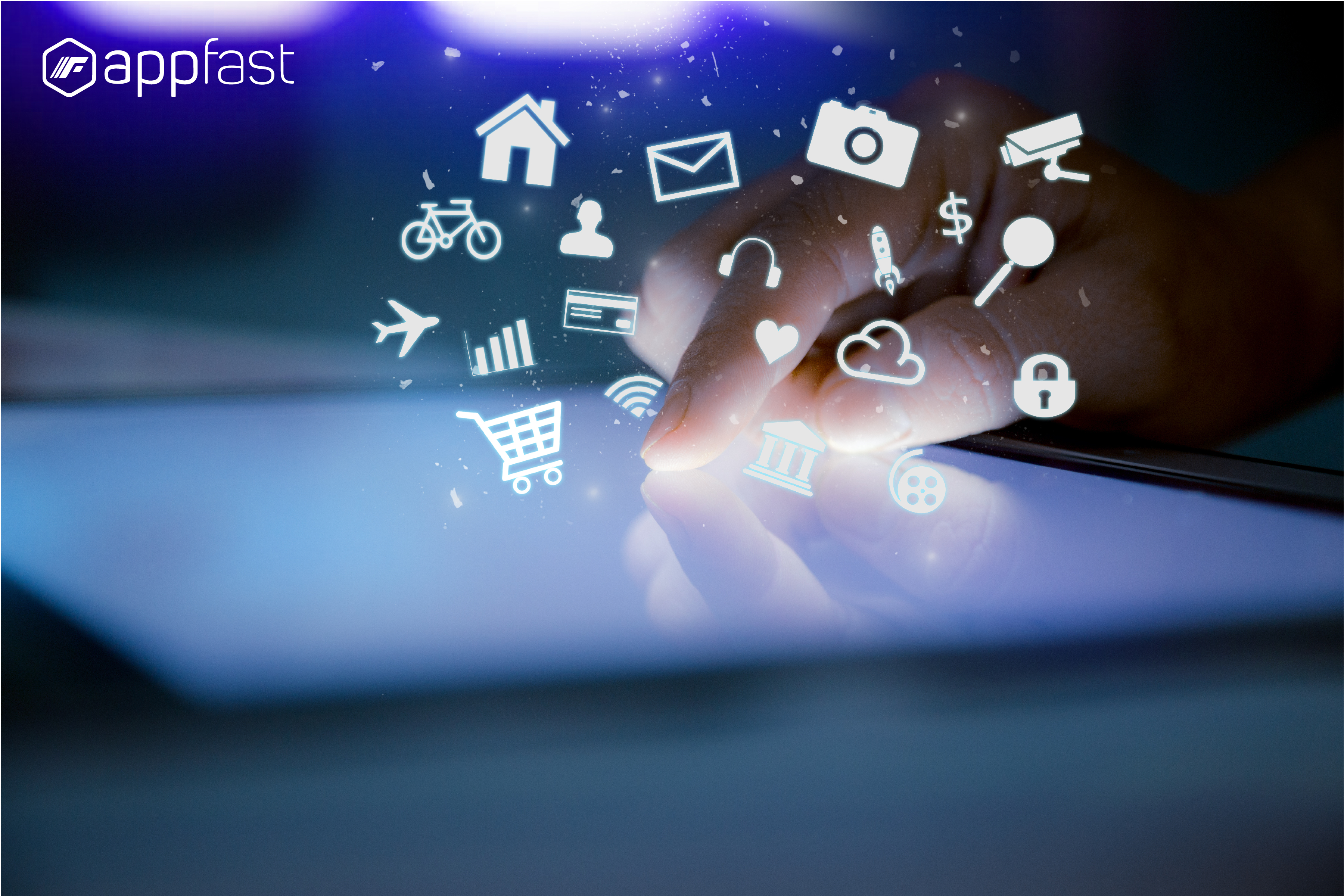 Build iOS/Android mobile app quickly
Your business only needs to go through 3 steps to create your own app:
Step 1: Choose the type of application that suits your business needs
Step 2: Add content sources like images, videos, posts to be synced with the app
Step 3 Drag and drop the utility blocks based on your ideas
After the interface and content are completed, Appfast will support and guide the publication of applications to the App Store (iOS) and CH Play (Android).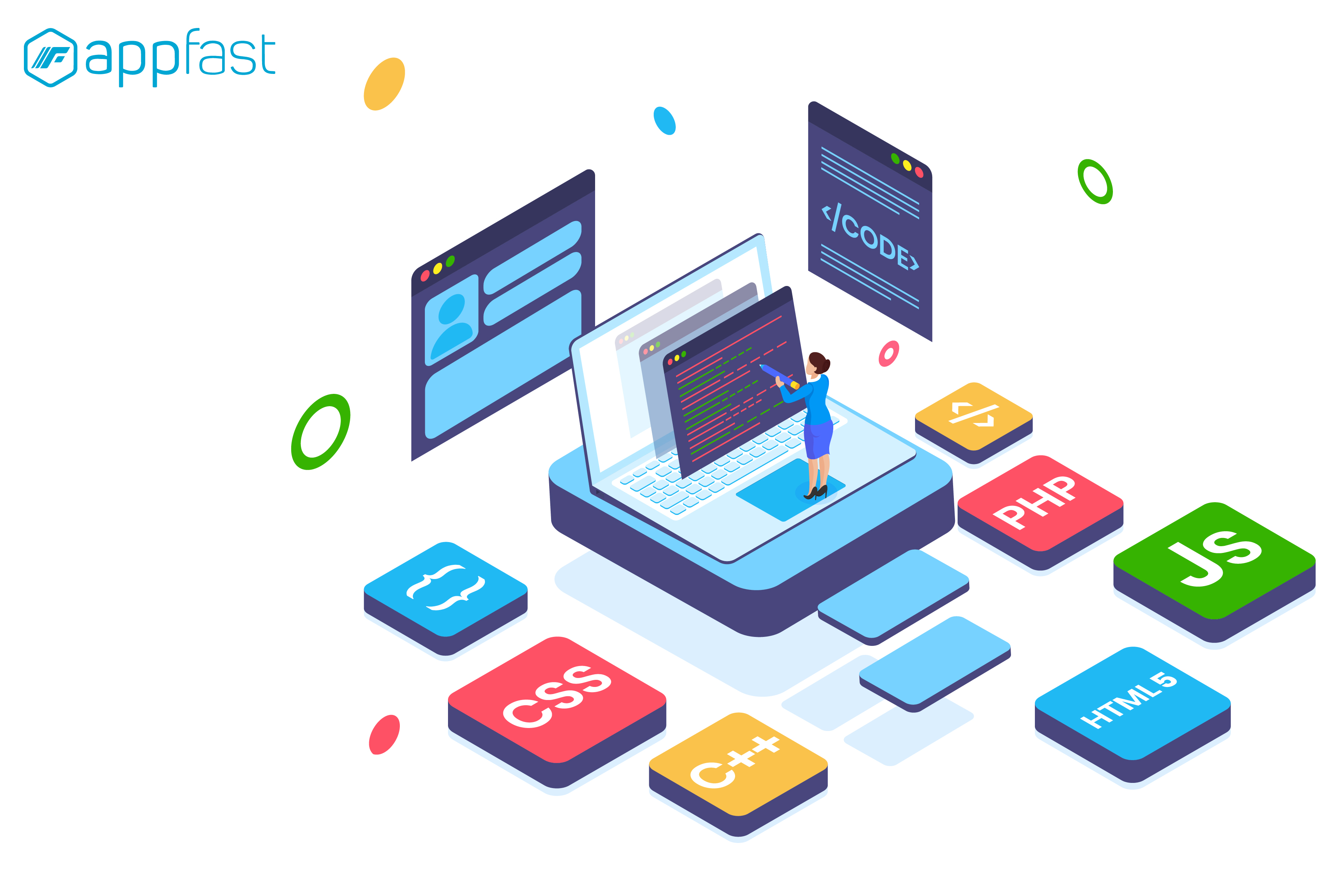 Simple mobile app design manipulation
Drag and drop blocks
The utility blocks (Widget) can be functions or an available interface. You'll drag and drop, arrange a widget to create a lively mobile app in accordance with your idea.
Flexible preview and updates
Once the design is complete, you can review the app and interact with it through the Appfast. Also when you update the new version, the change will be applied directly from the Dashboard management without going through the App Store or Google Play.
Utility interface
The superiority of App mobile vs Mobile Web is the adapt to user preferences and personality. You can create many new interfaces that help users customize according to interests, geographic location, time.
Sync content from websites and social networks
Appfast automatically synchronizes news, articles, images, videos from website, Youtube or Facebook,... This is an outstanding advantage of Appfast, making it easier and more convenient to create content on your business applications. At the same time, users do not feel too unfamiliar with the app if they have interworked previously with the content on the website. This helps to enhance the user experience dramatically.
Manage content, goods, orders conveniently
Appfast develops CMS to manage content, goods, smart orders. It's easy to create new content, post products, get order notifications, and manage revenue.
Create push notifications easily
Push notification is the form of an advertisement with a view rate of 100% so the Click-through (CTR) is very high. With the integrated AI system, Appfast will offer suggestions to send notifications based on user behavior. Thereby, helping you maximize the effectiveness of marketing campaigns.
In addition, Appfast also brings other outstanding applications such as: placing ads, ticketing online, discount codes, gifts to help you have a wide range of customization options, help businesses improve sales and make customers experience greater.
Statistics & Reports
The visual reporting data on the user's mobile app performance, visits, and behaviors are constantly updated to help you master the situation. Appfast's artificial intelligence technology helps you clearly locate customers' behaviors and needs so that businesses can adjust their business strategies and marketing to achieve the best effect.
Cost savings
Your business no longer has to worry about outsourcing problem for the 3rd app design unit. With Appfast from only $16,9/month, you can own a mobile app with full professional features, realized from your own ideas.
Sign up for the Appfast experience right here.